School Travel Plan
HPS School Travel Policy
National School Travel Awards
We are delighted to be able to share that we have been awarded the Bronze Level Modeshift Stars Accreditation! This is down to our School Travel Plan initiatives and all that we are working towards to increase the sustainable travel options for our school. We will now be working towards the Silver Level. Let's keep up the good work!
Our New Parking Dollies!
We hope you have appreciated our lovely new 'Parking Dollies' outside each of our school gates to help prevent people from parking illegally and dangerously outside school! We think they look great, as well as reminding people of their responsibilities!
Parking Dollies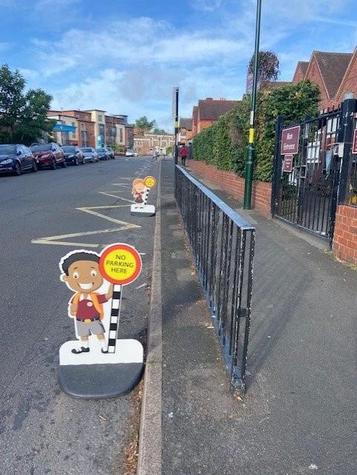 Update 24th June 2022
School Travel Plan – Next Steps
As we move towards our next accreditation for the school travel plan, we are planning to introduce the Parking Pledge. This will help the quality of the air around school, the safety for our children and families, as well as help us work towards the Bronze accreditation. Here is some early information about this for you to read. Look out for how you and your family can sign up to the HPS Parking Pledge – coming soon!
Dear Parent/ Carer,
Our school is launching the Parking Pledge.
We are wishing to make the area around the school gate at pick up and drop off times much safer so we are asking if you would kindly take a few moments to read this letter.
Parking for any school is always an issue and our school is no exception. We would like to try something new to highlight the importance of safe and courteous parking outside our school at the start and finish of school day.
We are launching our "Parking Pledge" with the main aim of keeping our children safe.
As adults, we are role models to all children and should always behave in a courteous and respectful manner to fellow drivers, pedestrians, and staff. With your support we can create a safer environment for our children with fewer cars on the road and by promoting considerate parking.
By making the pledge your family will be supporting our commitment to reducing congestion around the school gates, improving road safety and to increase the number of children travelling actively and safely to school.
While the pledge is voluntary, we are asking you to sign up to the school promises we have developed so we can show that our families are committed to making the area around the school safer and that we are being considerate parkers to our school community. So please look at our family pledge below. We will be asking families to electronically make the parking pledge, by sharing the relevant link very soon; please look out for this.
Our family are making the Parking Pledge
Please discuss with your family when making the pledge what you are promising to commit to. Our school community would like you to support us in this and ask that you sign the pledge via the link which will be sent to parents soon.
Our school has agreed on the following promises that we would like your family to commit to us and our school community.
· REMEMBER- our family will always park sensibly, and never on 'school keep clear' zig zag lines or opposite a junction, in a bus bay, or on double yellow lines.
· REMEMBER to give the school crossing patrol (Lollipop Person) more space so they can cross the children safely and help improve visibility when stopping the cars.
· Our family will respect our community residents by not parking over driveways, on pavements or verges which can cause damage and access issues, helping us be good neighbours.
· Our family will always take care when driving in the school vicinity, drive slowly and look out for families travelling to school by foot or bike.
· Our family will always 'park and stride' to school where possible when driving the car, which will help our children practise their road safety skills.
· THINK -Does our family need to drive every day, or could we travel by foot, bike or scooter or bus one day a week? This could show our children how much fun travelling by these can be.
We would like to thank you on behalf of all our families, children and staff at school for helping us achieve our travel plan objectives and for the making the pledge.
Junior PCSOs on patrol!
Many of you at Main Site will have seen our new Year 5 Junior PCSOs on the roads around school on Monday morning this week. They were out to talk to drivers about parking considerately on Emerson, Station and Wentworth Roads and did a fantastic job! PCSO Dani Lothian was very impressed and full of compliments for their communication skills and commitment to the job.
Next Monday, they will be out showing their community spirit carrying out a litter pick up on Harborne High Street. If you see them out and about please pop over for a chat.  
Many congratulations to: Ibrahim, Erin, Elliot, Niamh, Eleanor, Alice, Ethan, Arabella, Nieves, Eadi, Aliza, Sukaina, Sarah, Pariya and Anya.
Update 20th May 2022
We began our WOW Walk to School campaign this week, with children recording whether they travelled to school actively or not (walk, cycle, scoot or park and stride).
Update 6th May 2022
The children had the launch assemblies for the Walk to School campaign this week with Ed, from Living Streets. Next week our ambassadors will be trained in how to enter their daily results onto the online Travel Tracker when we start our campaign from 16th May. Please help your child(ren) get to school in active way at least once a week so they can earn the badges!
National School Travel Awards
We are delighted to be able to share that we have been awarded the Green Level Modeshift Stars Accreditation! This is down to our School Travel Plan initiatives and all that we are working towards to increase the sustainable travel options for our school. We will now be working towards the Bronze Level. Let's keep up the good work!
School Travel Plan Update - March 2022
Work continues on our school travel plan. As part of this we have to select a certain number of initiatives to be involved with in order to meet the green accreditation for Modeshift Stars. We are just beginning to take part in the WOW Living Streets Walk to School project. This involves taking a baseline survey of how the children currently travel to school; we then encourage them and their families to try and walk to school more frequently, and by doing this the children can earn badges. It is hoped that this will increase the number of children walking to school, and therefore reduce the number of cars around the school site before and after school.
We are also encouraging as many families as possible to join in with our Park and Stride campaign. We have a Walking Bubble Map around Harborne Primary School. The Park And Stride campaign involves parents parking outside of the five minute walking bubble around school and walking the last part of the journey into school. Please have a look at this five minute walking bubble map and have a go at helping us achieve our goals. We aim to increase the number of children walking to school and the number of parents using the Park and Stride option.
Over the rest of this academic year, we will also be working on:
road safety and pedestrian skills with the children

installing scooter and cycle parking facilities for the children

participating in an air pollution promotion

training some junior PCSOs to monitor traffic congestion around school.
We will continue to update you on our plans in this newsletter, as well as publishing updates on our website.